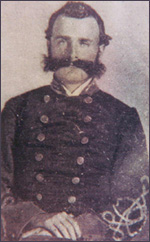 Captain William Anderson Ellis
William Anderson Ellis was a school teacher who enlisted in Company I, 35th North Carolina in 1861. He was wounded at the Bermuda Hundred in May of 1864 and died in a Virginia hospital three days later. The following excerpt from North Carolina Troops, 1861-'65: 35th North Carolina tells the story of his death on the battlefield:
In the main battle of Drewry's Bluff ( 16 May 1864) the Thirty-fifth regiment formed part of the support to Major-General Robert Ransom's command, and bravely did its part in gaining victory over Butler. After the battle of Drewry's Bluff, Ransom's brigade occupied the trenches in front of Butler at Bermuda Hundred and on 20 May, six companies of the Thirty-fifth regiment were ordered to advance the picket lines. This they did with wonderful gallantry, but at great loss. Captain Wm. A. Ellis of Company I, was killed and Captain Robert Petty of Company D, dangerously wounded. When the Surgeon, Dr. O'Hagan, told Captain Ellis he was dying, he said "Tell General Ransom I die like a soldier, and please send my body home." This request was faithfully attended to by his General, who at the time was lying wounded in Richmond.
Ellis's poems, both acrostics, offer a glimpse into the thoughts of a young man who, because of his position as an educator, would have been exempt from military service but nevertheless chose to take up arms for the cause.
Thanks to Jim Shelton, the great grandson of Ellis's nephew, for sharing these poems and Captain Anderson's image with us.