As the reference to South Mountain indicates, this poem is set in Sharpsburg, Md., where the Battle of Sharpsburg (or Antietam) took place in September of 1862.
Battery B of the 4th U.S. Artillery was the so-called Iron Brigade Battery because of its close association with that famous unit; it was manned in part by drafts of men from the volunteer regiments that formed the brigade, including the 24th Michigan.
Thanks to Scott Gutzke and Rob Richardson for supplying background information on Battery B.
This poem is dedicated to Chuck Ten Brink and Erik Lindquist, who (between the two of them) have taught me everything I know about artillery.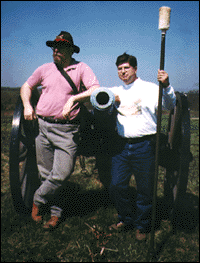 Chuck Ten Brink and Erik Lindquist of the Third Battery, First Michigan Light Artillery, with the guns of Battery B at Antietam National Battlefield Park.