There is a cap in the closet,
    Old, tattered, and blue--
Of very slight value,
    It may be, to you:
But a crown, jewel studded,
    Could not buy it to-day,
With its letters of honor,
    Brave "Co. K."

The head that it sheltered
    Needs shelter no more:
Dead heroes make holy
    The trifles they wore;
So, like chaplet of honor,
    Of laurel and bay,
Seems the cap of the soldier,
    Marked "Co. K."

Bright eyes have looked calmly
    Its visor beneath,
O'er the work of the Reaper,
    Grim Harvester Death!
Let the muster roll meagre,
    So mournfully say,
How foremost in danger
    Went "Co. K."

Whose footsteps unbroken
    Came up to the town,
Where rampart and bastion
    Looked threat'ningly down!
Who, closing up breaches,
    Still kept on their way,
Till, guns downward pointed,
    Faced "Co. K."

Who faltered or shivered?
    Who shunned battle stroke?
Whose fire was uncertain?
    Whose battle line broke?
Go, ask it of History,
    Years from to-day,
And the record shall tell you,
    Not "Co. K."

Though my darling is sleeping
    To-day with the dead,
And daisies and clover
    Bloom over his head,
I smile through my tears
    As I lay it away--
That battle-worn cap,
    Lettered "Co. K."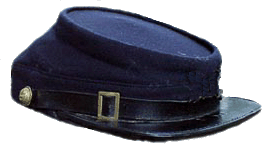 Union kepi