The stars were bright, the breeze was still,
The cicada and the whippoorwill,
Alone disturbed the scene;
A streamlet down the dark ravine,
Hasted the gloomy spot to shun,
And bear its little tribute to Cub Run.

The wayward step of one astray,
He scared the whippoorwill away.
A soldier reels to the little rill,
And tries his sordid cup to fill,
Then dizzily pitches across the branch,
Too weak his mortal wound to staunch.

He wakes anon, but weaker yet,
For the stones with his oozing gore is wet,
Feebly he feels for his stolen store,
In his shirt, made redder by his gore!
But long ere the midnight cloud grows dark,
The Red Zouave lies stiff and stark.

Why did the dying miscreant stare?
Why stood upright his clotted hair?
He sees a phantom sentinel,
A skeleton-man and musket as well,
And the ghostly cry, Halt! who goes there?
Made his glazing eyeballs wildly glare.

The sentry's laugh was shrill, yet brief,
Ere he spoke these words to the dying thief:
"I left old England long years ago,
Where I plundered and plundered both high and low;
To escape at once from my crimes and fears,
I enlisted with Braddock for seven years.

"We crossed the sea and we cut a road,
Where there never had been a christian abode,
On our march, we encamped on a wooded height;
You lay at the very same place last night;
I stole from a comrade a half a crown,
And was whipped as a thief, till the blood ran down.

"I swore for revenge as we marched along;
The jeers of the men made my vengeance strong:
So Braddock I marked, when we lost the fight,
And shot him through ere I took to flight;
I wandered this terrible wilderness through,
And died of my wounds here, as you will do.

"Though I saw our Sergeant-Major fall,
By some hidden Indian's rifle ball,
Yet plainly I heard him say, 'Murderer! Thief!
Stand sentinel here, till Hell sends you relief;
You shall challenge the panther, who prowls for his prey,
You shall challenge the savage and fright him away.

"'You shall challenge the bat as he wheels --
On his flight -- and the serpent that steals --
By your desolate post. Without fail
You shall halt! the storm, wind and hail.
[As they whistle and drift through your marrowless bones,]
And the turbulent stream, in its rush o'er the stones.'

"Then I shrank in my terror and asked in my grief,
How long will it be, ere you send my relief?
Then the spectre cursed me again and again,
For he seemed to delight in my mortal pain:
'I will tell you,' he said, 'assassin and thief,
When Hell will turn out your sentry relief.

"'Over Braddock's road, will pass a throng,
Better armed than our army and tenfold as strong.
Over Braddock's road, will drift the same day,
The wreck of that army, fleeing away.
And Braddock's defeat is forever forgot,
In the tenfold more shameful rout of Scott.

"'You will see a wounded miscreant run
From the battle-field, without firing a gun;
He has robbed a dead comrade and driven his blade,
Through his officer wounded, and begging for aid;
He will die on this rock, and his infamous ghost,
Will relieve you (a century hence) on this post.'"

Then the skeleton musket and ramrod rang,
On the rock with the Zouave's dying pang,
And soon the morning sun gleamed fair,
On his pallid brow and his shaven hair
Whilst his stiffened fingers closely hold
A picture fair and a piece of gold,
[And the picture smiled and the red gold shone,
As they did in the eyes that first called them their own.]

Now creep to the edge of that dark ravine,
And say what those ghostly voices mean, 
A nice and transcendental ear,
This dialogue then very plainly hear:

Zouave. Halt! who comes here to cross this line?

Bravo. Friend with the pass-word and countersign.

Zouave.Friend with the countersign advance.
He knew his ghostly friend at a glance.

Bravo. No sentinel posted will ever again,
Here the countersign, "Braddock." or the pass-word, "Duquesne."
Each spectre must give, as he passes this spot,
The parole of dishonour, "MANASSAS and SCOTT."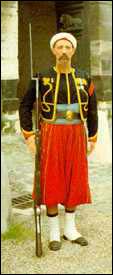 A Zouave, circa 1860