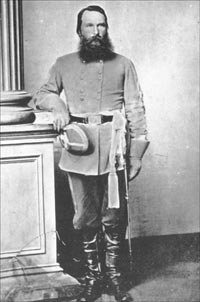 General James Longstreet
Born in the Edgefield District of South Carolina in 1802 but raised in his native Georgia, James Longstreet graduated 54th in the 62-member West Point class of 1842. He served with distinction during the Mexican War, receiving one wound and two brevet promotions, and was pursuing a career in the U.S. Army when the commencement of the War Between the States forced his resignation on June 1, 1861. An appointment as a brigadier general in the Confederate Army followed on June 17.
Less than a month after his commission, Longstreet was on the plains of Manassas commanding the Fourth Brigade as the Confederates thrashed the Union Army and sent it fleeing back to the safety of Washington, DC. A promotion to major general was not long in coming, and Longstreet became an integral part of what would eventually come be known as the Army of Northern Virginia. Aside from brief detachments to Suffolk and to the west to support fellow General Braxton Bragg, Longstreet served under General Robert E. Lee until the end of the War.
Longstreet's lowest point (the disastrous July 1863 Confederate defeat at Gettysburg, the blame for which future Lost Cause adherents would place on him and him alone) was followed quickly by what was arguably his finest hour, the victory that he engineered two months later over his old West Point roommate William S. Rosecrans at Chickamauga. He would never again achieve the same success in independent command.
His generalship (and his life) almost ended on May 6, 1864, when a Minié ball tore through his throat and lodged in his right shoulder. Although he almost hemorrhaged to death, he was back in action five months later; his right arm was permanently impaired, but he led his forces ably until the surrender at Appomattox in April of 1865.
After the War, Longstreet headed up an insurance company, sold cotton in New Orleans, and joined the Republican party, going so far as to endorse Ulysses S. Grant (to whom he was related by marriage) for president. Fortunately for Longstreet (who criticized Lee -- an unpardonable offense in the South -- in defending his own actions at Gettysburg), Grant would reward his support with a number of Federal appointments, including U.S. Minister to Turkey in 1880.
Longstreet spent his last years in Gainesville, Georgia, where he had lived as a youth. Following the death of his wife Louise in 1889, he entered into a second marriage with Helen Dortch (she was 34, he was 76). She would remain his staunchest defender for the remainder of her very long life.
The following poem was included as a part of an article by Alan Rogers published in the Atlanta Constitution following Longstreet's death in January of 1904. Many thanks to Longstreet scholar Brian Hampton of The Longstreet Chronicles for contributing this piece.


"Longstreet"

---
This page is http://civilwarpoetry.org/confederate/officers/longstreet-exp.html
Last modified 16-April-2001