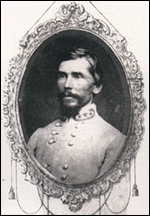 General Patrick Ronayne
Cleburne
Patrick Ronayne Cleburne was born on March 17, 1828, in County Cork, Ireland. When an inability to master Greek, Latin, and French kept him from passing the examination to become a druggist (a trade for which he had apprenticed), he enlisted in the 41st Infantry Regiment. On his 21st birthday, he received a small inheritance, with which he purchased a discharge from the army, and emigrated to the United States with two of his brothers and a sister.
Cleburne returned to the druggist's trade in Cincinnati, Ohio, working there for six months as a druggist's clerk. He moved to Helena, Arkansas, in 1850 and continued to ply his trade, eventually becoming a full partner in the druggist shop where he worked. When an epidemic of yellow fever broke out in 1855, Cleburne was one of only three men who stayed behind in Helena to nurse the sick.
In 1856 Cleburne was admitted to the Arkansas bar after pursuing law studies in his spare time. In 1860 he was one of the organizers of a militia company called the Yell Rifles, which elected him its captain. In February 1861, with war looming on the horizon, the Yell Rifles, under Cleburne's command, seized the U.S. Arsenal in Little Rock. After Arkansas officially seceded to join the Confederacy, Cleburne became the colonel of the 1st and then the 15th Arkansas Infantry and was eventually appointed a brigadier general in the Confederate Army.
After fighting at Shiloh and Richmond (Kentucky) and being wounded at the Battle of Perryville, Cleburne was promoted to major general (one of only two foreigners to attain that rank in the Confederate Army). He commanded the Second Division in General William Hardee's corps at Stones River before moving to General D. H. Hill's corps at Chickamauga. He returned to Hardee for the Chattanooga campaign and eventually replaced him as corps commander.
Cleburne earned the thanks of the Confederate Congress for saving General Braxton Bragg's wagons and artillery at Ringgold Gap, and his star might have risen further still had he not become embroiled in a political controversy. Desperate for a way of filling the depleted ranks of the Southern army, Cleburne hit upon the notion of freeing and arming slaves to fight alongside white soldiers. He drafted a proposal, secured the signatures of 13 fellow officers, and presented the document to General Joseph E. Johnston on January 2, 1864. Believing that the proposal dealt with political issues that were beyond the scope of the military, Johnston refused to forward it to Jefferson Davis in Richmond. Nevertheless, the proposal somehow reached Davis, who returned it to Cleburne with the request that it be supressed because of possible public outrage.
Cleburne thus remained with the Army of Tennessee while General Alexander P. Stewart succeeded to the corps command held by Bishop/General Leonidas Polk upon Polk's death. He took part in Johnston's withdrawal from Atlanta and General John Bell Hood's defense of that city. He followed Hood to Tennessee, where he was killed in the bloody Battle of Franklin on November 30, 1864, along with four other Confederate generals (Otho French Strahl, John Adams, States Rights Gist, and Hiram B. Granbury). He was buried near Franklin but was eventually removed to Helena.
A stern disciplinarian who was nonetheless much loved by his men, Cleburne (who never married and left no descendants) has often been called "the Stonewall Jackson of the West."
Abundant thanks to Chuck Ten Brink of the Civil War Artillery Page for finding this poem, which had eluded me for over a year.


"Cleburne"

---
This page is http://civilwarpoetry.org/confederate/officers/cleburne-exp.html
Last modified 16-April-2001