James Ryder Randall, a 22-year-old Baltimore native, was teaching English literature at Poydras College in Pointe-Coupee, Louisiana, when word came that Union troops had been fired on by angry citizens in his home town. Encouraged at what he took as an indication that Maryland was about to join the Confederate cause, he immediately wrote this poem, which was published in the April 26, 1861, edition of the New Orleans Delta.
Randall wrote several other notable war poems, including "The Gallant Pelham," but "Maryland, My Maryland" remains his best-known work.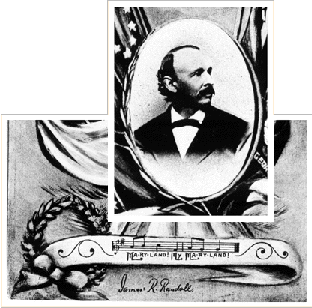 James Ryder Randall (detail from postcard, Jack Kelbaugh Collection of Civil War Photographs, MSA SC4325-52, Maryland State Archives).