Poetry and Music
of the War Between the States
The War Between the States was the pivotal event in our Nation's history.
If you want only the facts about the conflict, any textbook will do.
But if you want to understand the thoughts and emotions
of the men who faced each other across the battlefield
and those who waited for them at home,
look to the poems and songs written during and after the War.
---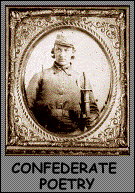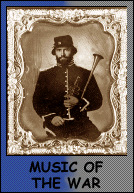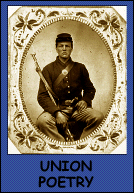 [Images from the Library of Congress's Selected Civil War Photographs]
---
FREQUENTLY ASKED QUESTIONS
---
Index of Titles | Index of First Lines | Index of Authors
---
This page is dedicated to
my great grandfather Private Henry Kelsey Hart,
Texas State Militia, C.S.A.;
my great-great uncle Sergeant William Allison Hart,
Company B, 7th Texas Infantry, C.S.A.;
and my great-great grandfather Private Sandy Pratt,
Company C, 2nd Missouri Volunteer Infantry, C.S.A.
---
Special thanks to Joel Craig for his literary input;
to Dean Fowler, Benjamin Tubb, and Kevin Laurent for their musical magic;
and to Chuck Ten Brink, Dave Smith, and Brian Hampton for
their moral and artistic support.
---
RECENT ADDITIONS
---
All material not identified as being in the public domain or acknowledged to be the work of others (including but not limited to images, graphics, wallpaper, MIDI files, and original commentary) ©1996-2009 by Poetry and Music of the War Between the States. All rights reserved. May not be reproduced without permission.
---

MUSIC
The music that plays on this page is Ashokan Farewell, composed by Jay Ungar.
©1983 by Swinging Door Music-BMI. Used with permission. All rights reserved.

Thanks to Keith Laurent for arranging and playing Ashokan Farewell and to Kevin Laurent for making the MIDI file. ©1995 by Poetry and Music of the War Between the States. May not be borrowed or reproduced for any reason.
---
URL: http://civilwarpoetry.org/
Last modified: February 3, 2009